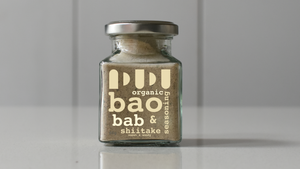 This organic seasoning combines the tartness of baobab and the savory umami of Shiitake mushrooms to provide a unique flavor to your dishes.

Experience a nutritious and delicious twist on classic recipes using the Baobab and Shiitake seasonings
HEALTH BENEFITS 
The Organic Baobab & Shiitake Seasoning is a must-have ingredient in any healthy kitchen.
Shiitake mushrooms are a great source of vitamins, minerals, fiber, and protein, providing users with many health benefits
Try our seasoning blend today for a nutritious and delicious way to add flavor to meals!
Weight : 80g
 
USES
Add deeper flavor to your dishes while boosting your nutrition!
Add to your Bolognaise sauce, Stews, Soups, Meat balls, Steak Buttetrs etc

INGREDIENTS 
Shiitake Mushrooms, Organic Baobab, Organic Black Peppercorns, Organic Onions, organic Garlic, Mustard, Organic chives and spices 
 
ALLERGY
Contains MUSTARD
Made in an environment where crustaceans and nuts are used.