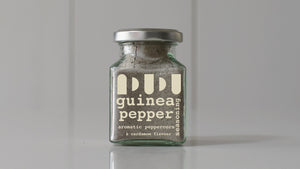 Efom Wisa is a distinctive seasoning mix crafted from the fragrant West African Guinea Pepper and spices. Possessing a range of antioxidants, it adds a powerful flavour to any dish.
This pre-mixed combination of spices takes the guesswork out of cooking, allowing you to quickly achieve the desired flavour and aroma. Elevate your culinary creations with the genuine taste of Efom Wisa.
FLAVOUR PROFILE
A black peppercorn with mint and citrusy base flavour with a spicy flowery finish to the palette 
USES
Great with Beef, Stews, Sauces and Curries
Ingredients - Organic Ginger, Organic Horseradish, Organic Black Peppercorns, Guinea Pepper, Cardamon & Spices
Weight - 80g
ALLERGY - Made in an environment where Crustaceans and Nuts are used.