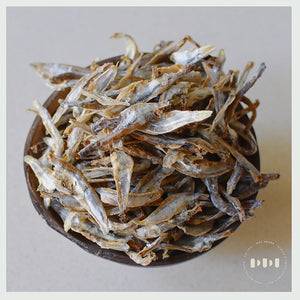 Our premium headless dried anchovies from Keta in the Volta Region of Ghana, are carefully selected and naturally dried.
These headless Anchovies adds a perfect balance of salty and umami flavours to your savoury dishes. 
For your convenience the head and innards have been removed. 
TIPS:
Whilst the sun-dried Anchovies are naturally briny in taste; they can be briefly soaked to reduce the natural sodium content.
NUTRIENT CONTENT 

Packed with essential nutrients, anchovies are a great source of Vitamin D, B12, and Omega-3 fatty acids.
FLAVOUR PROFILE : Naturally Salty & intense Umami flavour
USES :
Rinse in cold water once and fry it in Coconut or Olive oil with Onions. A great base for a delicious Tomato or Green Pepper stew. 
Perfect for your Pastas, Pizzas, Stews and Salads. 
Add them to your dishes for a boost of savoury, taste of the sea flavour and healthful nourishment.

Get your delicious and nutrient-rich anchovies now!
ALLERGY : Packed in an environment where Nuts and Crustaceans are used.
RECIPE :