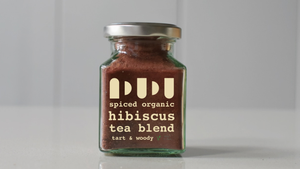 Introducing our new instant UNSWEETENED  Sobolo & Zobo Tea blend. This organic spiced hibiscus tea and drink is an authentic replica of the classic West African Sobolo and Zobo.
With natural organic ingredients, it has the flavour of the classic Sobolo from Ghana and Zobo from Nigeria that have been enjoyed traditionally for generations.

NUTRITION
Rich in antioxidants, vitamins, and minerals, Sobolo and Zobo are known to support digestion, weight loss and immunity.
FLAVOUR PROFILE
Tart with an after warmth taste to your palette. 
USES  
Enjoy a cup of this refreshing West African tea blend hot or cold . 

Can be enjoyed on its own or add your preferred sweetener like our Raw Honey
ALLERGY
Hibiscus contains Tannins and must be avoided if you're allergic. Enjoy not more than 2 cups a day.
Made in an environment where Nuts, Crustaceans, Milk and Eggs are used.