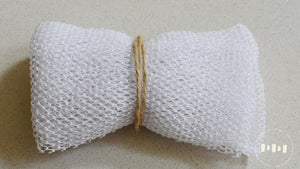 1 * NYLON DISH SPONGE
Traditional West African, Nylon dish washing sponge which can last you for several years. A hygienic choice for hand washing your dishes or glasses. The rough surface also helps scrub of heavy pot stains easily.
HOW TO USE 
Wet with water, add your soap, lathers and wash your dishes clean.
CARE
Once used rinse with water till it has no soap residue and hang to dry out naturally.
The Nylon dish sponge can last several years if the above care is implemented.